A Project by:
Tony / I2TZK, Frank / K7SFN , Dinesh / VU2FD
AAZ-0217MX: 1 to 60MHZ Antenna Analyzer
AAZ-0217MX is a simple single board USB Antenna Analyzer using Si5351 signal source generator chip and a return loss bridge, for measurement by a Log Amplifier AD8307 and a reference.
1. Uses Si5351 as a signal Generator. Generates Frequency as low as 1MHZ and with upper limit of 60MHZ.
2. Dual, auto power select option: PC use or Portable use
3. Optional Bluetooth module (HC05): BT Function auto activated when BT module inserted into FRC16 Socket.
4. Project uses Si5351 chip on a plug in module and is supplied fully assembled and tested.
5. Spec technically restricted to upper limit of 60MHZ due to VHF Mixer technique used. However, AAZ-0217MX may be used to as high as 90MHZ with small mod on LPF.
6. Expansion socket (FRC16) is for future use of a Bluetooth or a WiFi Module, with necessary implementations in FW. Supports RX/TX and I2C + External 5V Power input.
A PC Software V6.08 is available for free download AAZ-0217MX and works well with most WIN OS. Latest dotnet update is essential for your WIN OS.
Firmware V1.05 and Software V 6.08 for AAZ-0217MX is developed by Tony/I2TZK.
Kits are offered with option of RF connector: BNC or SMA and a free metal case

USB Antenna Analyzer AAZ-0217MX: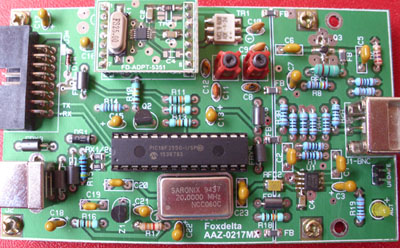 Click to enlarge

Si5351 Module: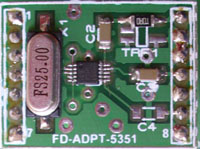 Click to enlarge