FC3-SK-0317: 50MHZ PIC18F4550 Counter with Bargraph.
A Simple PIC 18F4550 USB Powered Frequency Counter with Bar-Graph
Project by:

Antonio Alfinito / I2TZK

Frank Dziurda / K7SFN

Dinesh Gajjar / VU2FD
---
Last FC3-SK Project web page is here.....
---
FC3-SK-0317
Designed and developed originally for a school project, this frequency Counter project is now revised on a popular demand of Radio amateurs looking for an LCD display for their old Radios (with IF off sets).

Some important Features:

1. Its USB Powered (Option to power from external 5V)

2. Simple One Chip 18F4550 Project

3. Count frequency to 50MHZ (Maximum and PIC Specific)

4. 2 x 16 LCD Display

5. Signal Level Indication (Bar Graph)

6. Small enough to carry around with your laptop

7. Frequency "off-sets" set by PC program.

8. Free PIC Firmware & PC WIN Software by Tony/I2TZK


Project is designed and developed for science students and Radio Amateurs, looking for economical frequency counter for their hobby work. This counter may also be used as a frequency display for old ham equipments. (IF Offsets may be configured by USB/PC)

Project uses simple diode detectors to display signal level on second line of LCD as a Bargraph.

Those looking for more accurate freq/level measurement may look for FC3 or FC5 counters which uses AD8307 to measure RF level very accurately in DBm, Vpp or RMS.
In FC3-SK, Usually, you configure PIC's internal parameters using a Free PC software by I2TZK, enter IF Offsets (if any), adjust back-light and if required, calibrate with an accurate frequency source and then use it as a standalone frequency display for your signal source.
No metal case is available as counter is designed for use as a Digital Display of your Old Radios.
Completed Frequency Counter: FC3-SK-0317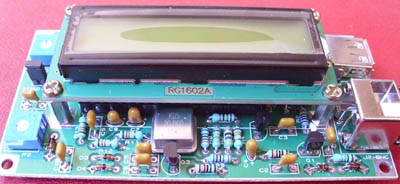 Click the picture to enlarge
Bar Graph of received signal:

Click the picture to enlarge
Schematic & Documents:

FC3-SK-0317 50MHZ Frequency Counter Document


Schematic & Parts List


FC3-SK-0317 Schematic
JPG
Datasheets and other files

PIC18F4550


PN3563


J309

Firmware and PC Config Software

Programming Hex 18F4550


FC3 PC Software by Tony / I2TZK


Visit I2TZK Web Site

Buy On-Line
US $
Buy On-Line
In stock now

FC3-SK-0317: Complete kit without metal case
30.00

2CheckOut.com Inc. (Ohio, USA) is an authorized retailer for goods and services provided by Fox Delta.
Kit Parts List for FC3-Sk-0317
Checkout Selections:
LCD Color and BNC or SMA
---
Visit our Paypal Direct shop at