SWM5: Dual Channel SWR Meter and 30MHZ Frequency Counter
Project by:
Tony / I2TZK, Frank / K7SFN , Dinesh / VU2FD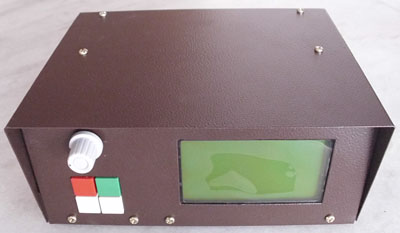 SWM5 is an dual channel SWR Meter suitable for use with HF Dual Scale, HFB3, HFB4 or HFB5 RF Bridges.
SWM5 board is an add-on board which fits on top of GCPUx main board to create a 2 Channel SWR Meter. Measurement results are displayed on 128X64 Graphic LCD. A PC program is be available.
GCPUx+SWM5 Unit may be used as a standalone SWR Meter.
A battery board is included with this kit. You may buy either NiMh or NiCad battery pack with 7.2V output. (kits or assembled will not include batteries as they are not allowed by postal service)
SWM5:
| | |
| --- | --- |
| | Simple single Micro Controller with built-in A/D converter (PIC18F4550) |
| | |
| | Operates on DC12V, USB or Internal battery*. |
| | |
| | Includes a Battery charger board kit which fits on Case Roof of GCPUx. A 7.2V NiMh/NiCad Battery is required but not included with kit or assembled. |
| | |
| | Bluetooth operation for smart phones (Depend on FW) |
| | |
| | 2 channel SWR Measurement. Requires RF Bridges such as HF Dual Scale, HFB3, HFB4 or HFB5 |
| | |
| | Frequency Measurement on Ch1 to 30MHZ. |
| | |
| | Simple 4 Button Menu operation |
| | |
| | Graphic LCD 128X64 |
| | |
| | Measures RF in DBm, VPP, AVG etc |
| | |
| | Free Powder coated metal cases for kits or assembled. |
| | |
| | PM5 is a complete kit which includes GCPUx kit, PM5 add-on board kit and a metal case. |
GCPUx Main Board with metal case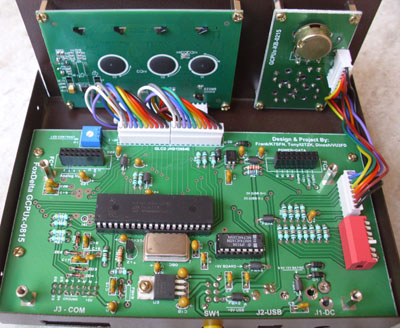 Click to enlarge
GCPUx main board with SWM5 :add-on" Board: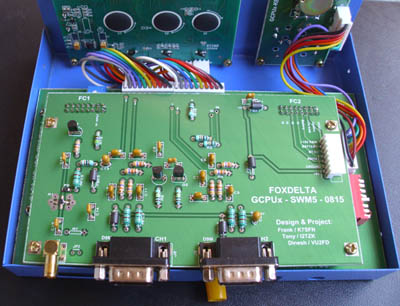 Click to enlarge